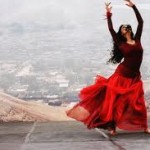 " However I dance , counter my pain I dance
 Your dreams tangle with mine " Raise your voice – a song for Mounir
With such a vivid song , all these conservative people around me in Mounir's official concert stood up and danced.
After a while , I felt something strong inside that motivates me to dance too , even then ,  my jobless situation and my major depression were dragging me away from that joyful mood .
I danced , cried , sang with him " against my pain I dance" then I cried again and danced till the end of the song ; I felt a total relief like dropping an iced mountain away from my shoulder .
His next song was " The universe " which is a traditional Nubian melody with Egyptian words.
I danced without thinking twice , then I noticed at the corner a group of three or four young people who were following my dancing style – which was not exactly a style -. And I noticed another group too imitating my dance .
I was surprised , didn't know if i inspired them by my intense expressing with the song's aid , or they assumed that a Nubian girl should dance a Nubian song the right Nubian way . However , I was content .
few days later i read a quote for "Yehia Haqy" the great Egyptian writer which says : " a writer's destiny is to get undressed to cover up others " , and that gave me a great boost to face my demons and try to be stronger to guide others into embracing themselves , maybe.